Randall Gene Sjue (my dad) came to visit in Los Alamos for the last little bit. Randy and I had a good time relaxing, climbing and skiing while he was here. I also did some work while he perfected his chill during the days. I had a bit of a cold and it seemed like it gave me a stiff back.
On our third climbing session of his visit, I was pulling a roof on the first pitch of the day and one side of my lower back responded with distinctly negative feedback. I persisted, finished the pitch, led another pitch, then toproped Len's Roof to finish the session (stupid). The next day my back was in a bad way. Randy and I drove to Albuquerque to get Naomi at the airport and I could barely get into my car. This would be a theme for the next couple of days.
Despite my crippled status, we drove to Moab on Friday. We used the rare opportunity of a down day in the desert to see Arches National Park.
Now I want to climb the Three Gossips.
We made a hike to Delicate Arch.
After three hot tub sessions and alternating intensive ibuprofen and beer therapy, I felt a climbing outing was in order yesterday. We got psyched for a route with the hallowed Roper-Steck 50 status, the Kor-Ingalls on Castleton Tower.
Randy and Naomi step to the obelisk.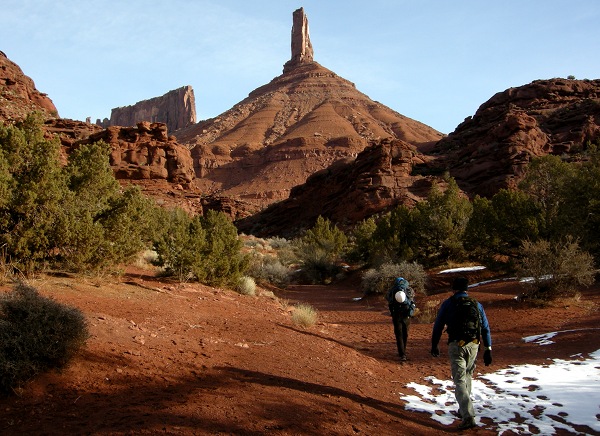 Randy's first comment at the parking spot after finally seeing Castleton Tower: "I thought it would be a nice, easy hike." Ha ha ha.
After an exciting approach through high-angle, hard dirt with ball bearings and snow covering it, Naomi led the first pitch. She found an extracurricular chimney.
I follow.
Randy did a great job in his first real desert chimney.
Maybe the finish wasn't so pretty.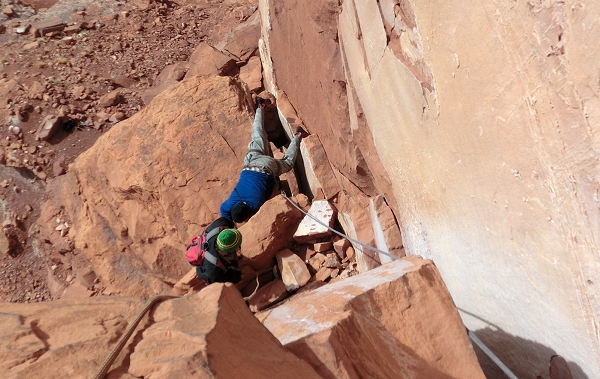 I led the second pitch. All kinds of crack fun.
Still smiling after the second pitch!
Naomi was kind enough to let me lead the third pitch too.
I'm getting psyched for "the bidness" after clipping the bolt. It goes lieback, stem, offwidth, squeeze chimney from here in a rather committing fashion.
Naomi follows it.
And here Randy triumphantly makes the face moves to the top!
Another sweet summit in the desert.
Summit shot. Naomi was cold.
It was another dreadful drive home in the dark, but we took a nap in Durango. It was great to see you, dad! Nice work on Castleton. Hope you had a good flight, Naomi!
My back is feeling better and I'll be happy to just work this week and "get some rest."