After a full season of begging people to come ski the southern Rockies with me, Eric finally took pity on my sad ski-sick soul. I rented us a nice condo in Breckenridge, figuring between potential lift riding, backcountry access and not too distant rock climbing, some fun would come to fruition.
It was better than expected. Based on a tip from Frank, we first skied Quandary Couloir on Quandary. All it took was a nine mile drive from town and a 3,300 ft skin to the summit. Then we dropped into nearly 2000 ft of couloir with chalky alpine pow and some corn.
From the bottom the line looks like this.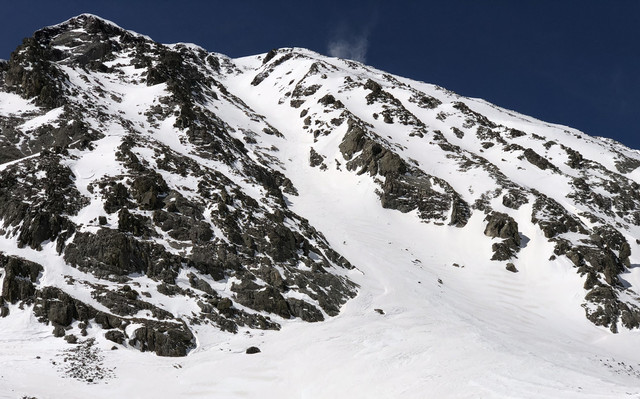 Eric is skiing up there if you look closely.
We were pleasantly surprised.
The snow stayed enjoyable the whole way.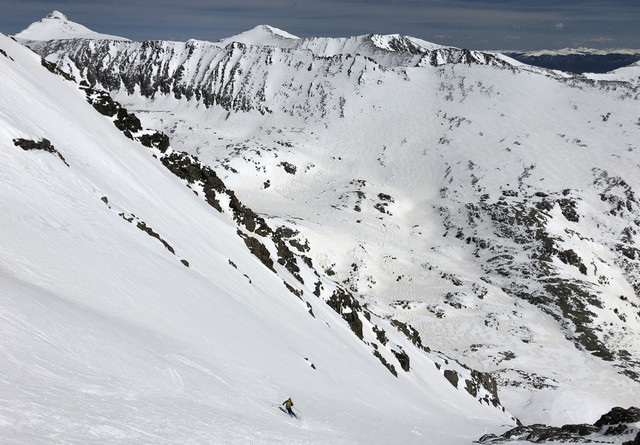 After a strong, celebratory late-morning pint at the trailhead, we eventually got grub at Modis in Breckenridge.
We made plans for the next day that were slightly too Cascadian, but came to our good senses before any brisk approaches. Evolving instincts eventually drew our attention to the north face of Drift Peak.
There were some tracks faintly visible from the previous day. We basically skied the sun-shade line down the face into the gully directly below it. The face had some alpine refill pow on it. It rolls from the top, giving the upper face an airy, levitated feeling. Measured 1300 ft averaging 40 degrees on a map. This was a ridiculously fun ski.
We're talking about a 3,000 ft ski directly from the road.
It was easy enough to skin to the west ridge then boot to the summit.
One summit selfie allowed in a multi-day trip report.
No limits on ski shots.
Pure, unadulterated fun.
We ate some delicious fare at Tennessee Pass Cafe in Leadville, which is just 20 minutes down the road. They taste great but beware the repercussions of brussel sprouts.
On deck in Breck
It's impressive how good the ski area still looks.
For our final day the weather didn't look great. So we bailed to New Mexico and climbed at Tres Piedras.
Techweenie is always so fun!
Huge thanks to Alisson for enabling fun ski sorties! And thanks to Eric for the visit. Back to work.