June. The secret ski season of the PNW addict. We planned a casual trip up to the CRR which thankfully opened to the parking the day before our visit. Though the forecast suggested larger objectives were in play (see E_$ 2014), we were on a tight schedule, needing to return to a friend's birthday party in Seattle the day of our ski. Sahale it was. Hopefully the W face, but whatever looked smooth would get the treatment.
I drove up with Will and Jesse from Seatown the night before -- we planned to meet Jed (from Bellingham) and Sid (from Winthrop) on the banks of the mighty Skagit outside of Marblemount. Somewhere between Concrete and Marblemount Jesse and I were involved in a scuffle. First I taunted Jesse (riding in the back seat) for wanting me to put my window up. He then choked me with my seatbelt. In response I slammed my seat backwards into him, to which he countered by putting me in a headlock. In my left hand was a freshly opened 1 L bottle of sparkling lime-flavored water, which I thoroughly doused my foe with. He got me back with about half of his gallon jug. We emerged from the car shameless and shirtless at the meeting place where our friends were waiting, and headed up to Marble Creek Campground where we occupied a beautiful group site and dried ourselves by the fire.
"These are the only underwear I brought." "Me too."
Sid and Will hadn't met my friend Jed before, and the last time I brought a stranger on a mission with them it was none other than Reed Purvis, who experienced catastrophic skin failure upon reaching snowline after a night-long climbers' trail approach and was subsequently stalked by a wolverine during his solo return to the car. So they were perhaps justified in ridiculing my choice of "wild card" partners. Jed, however, is a trustworthy and experienced partner (and a long time friend of mine from my days at Alta), and I had little doubt his abilities would contribute to our group's trip. In an ironic turning of the tables, after dinner and a couple cases of beer with most of us preparing to hit the sack, Will and Sid turned out to be the wild card elements themselves, suggesting that starting immediately (it was about 11pm) would yield the best view of sunrise from somewhere along Sahale Arm. Though I was a few deep myself and had just cracked a Spaten Optimator, I couldn't be convinced that a midnight start was completely necessary for the Sahale Arm. The two lunatics jumped in one of three Toyota Tacomas and sped into the night. Jesse, Jed and I enjoyed a few brief but restful hours of sleep, rousing ourselves at 4am and heading up the road.
Snow still extends to the parking lot, and what a wonderful thing it is. We parked, said "hi" to some old bastards Jesse recognized, and headed up towards The Pass. Somewhere I passed the previously mentioned old bastards, and while I transitioned to bootpack a steep pitch one of them (Cliff? Clint?) suggested, "skin the whole thing you pussy." Though I was surprised at this stranger's brusque, pre-dawn banter I decided I liked him. His unbuckled pack, 80cm axe, and Scarpa Plasticduck 1s were decidedly endearing. Later over a bowl of marijuana he told stories of Fred Beckey washing his balls in the sink of a mexican restaurant after a climbing trip. "Sticky balls. Can't have that."
Jesse with good momentum coming fresh out of grad school.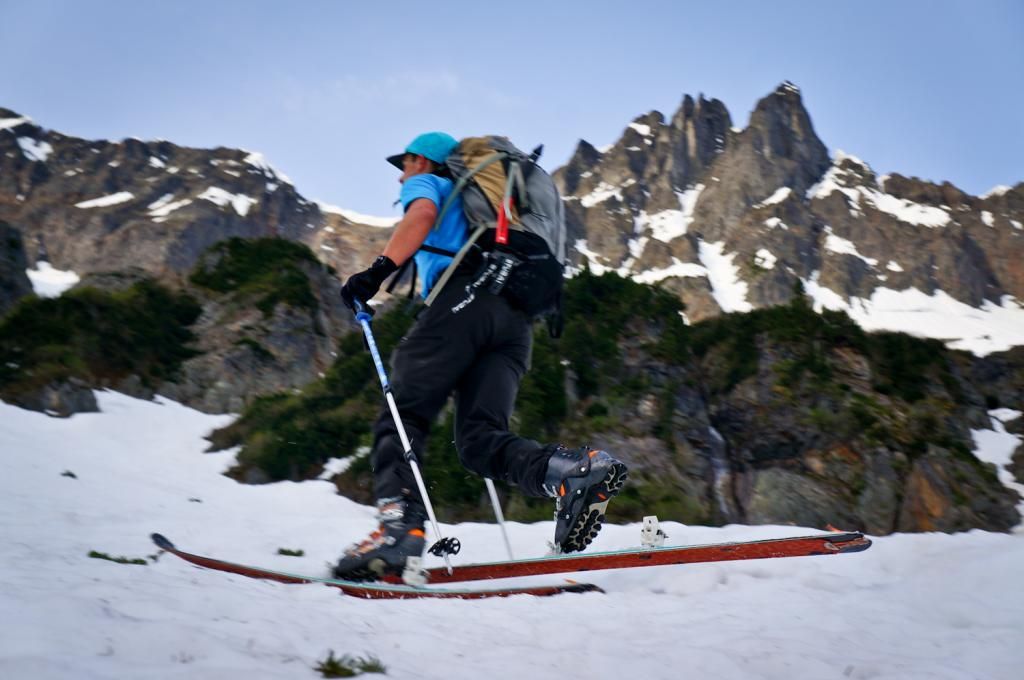 We climbed higher, arriving on the Arm with excellent travel and high spirits. Our friends who went to search out the
secret of the mountain
(coincidentally the name for
Brokeback Mountain
in Latin America) had predicted a possible camp at the moraines below the Sahale Glacier, but we found them lower on the arm at a truly spectacular spot, though they were virtually unrecognizable savages after their night sleeping in some bushes. We breakfasted on the last of their muddy instant coffee and some Grizzly and headed up.
Is it them?
MY GOD WHAT HAPPENED UP THERE?
We'd considered up-and-overing to the W face/Quien Sabe via the standard (S) route, but we decided it would be best to take the low contour into Boston Basin around Sahale as it would offer us a look at the exit of the W face which we suspected might be substantially broken up. Firm snow and a few small-but-consequential runnel crossings had us on guard as we took a high line above a cliff band and onto the Quien Sabe Glacier. The W face, as feared, wasn't very appetizing. No matter, as we found expansive carpets of immaculate corn blanketing the remainder of the Quien Sabe glacier on our climb to the col.
Le ski extreme -- you never know where you might find it.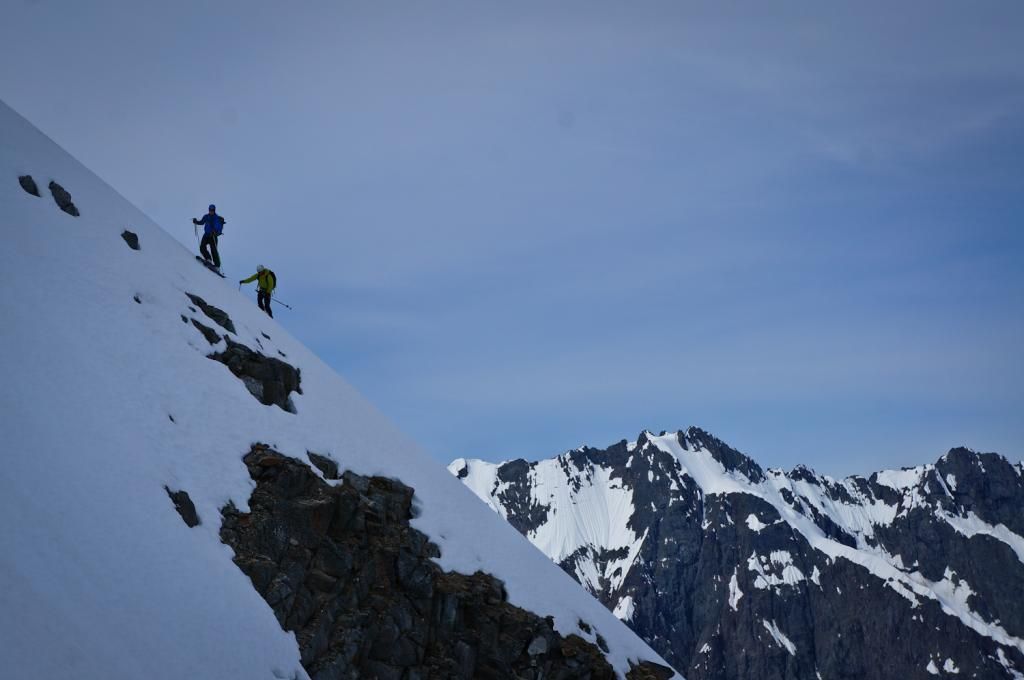 "Maybe if we... Or what about... I think you could probably..."
The clouds arrived at this time, non-threatening and whispy, the forecasted marine stratus pushing up towards the crest with the day's warming. Absolutely massive cornices hung from the ridge, and though we found no safe spot to comprehensively see their scope it was obvious by the cracks up to 50' back from the edge that they were to be given wide berth. Four of our party summited, while Jed decided the final short pitch of climbing up an unskiable fragile snow structure with serious exposure wasn't worth it. Most members clicked in to skis down on the shoulder while I stomped out a little platform and clicked in about 5' below the summit, making turns down about 100' of the west face on 5-star corn before traversing back to the right to reconvene with the group.
Cascornice. Jed's photo.
The place to be on the morning of June 7, 2014.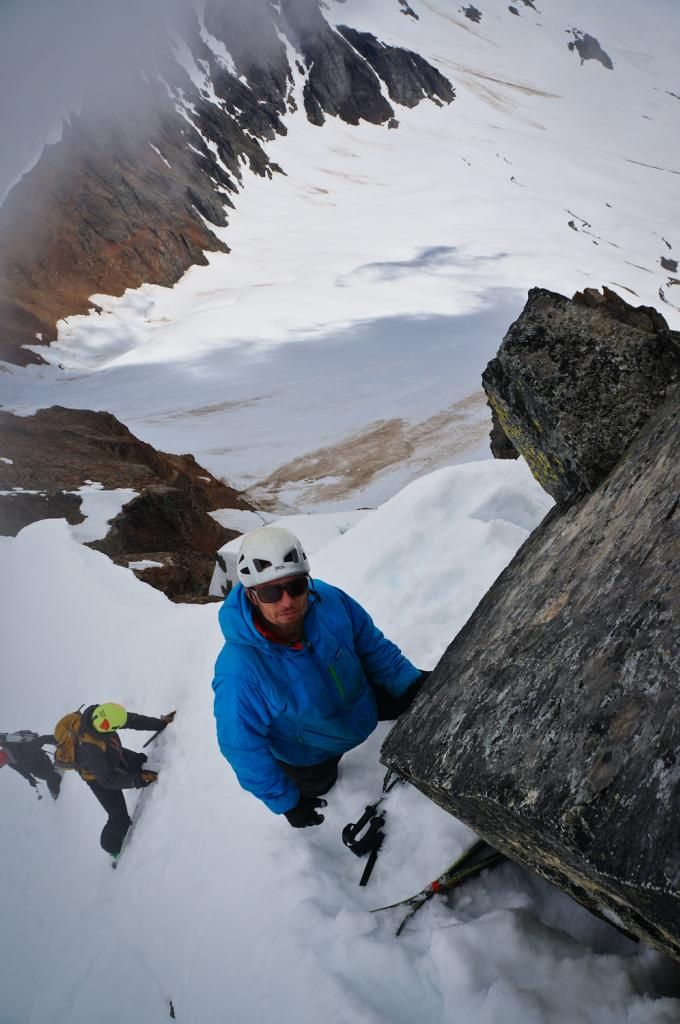 The ski down the Quien Sabe was fleeting but perfect. In particular Will and Sid reveled in the descent -- in addition to their night spent in the open, they had epic'ed hard out near Golden Horn two weekends previous with 8,000' of climbing yielding only a few hundred feet of turns on sticky snow -- for them this harvest was particularly sweet. We planned to ski to the moraines and hike back out to the Arm, but the snow turned sticky and so we sidestepped up a short bit and regained our entry track, popping out back on the Arm in a few short minutes. This is an excellent ski route in and out of Boston Basin when conditions permit.
Jed -- such a wild card.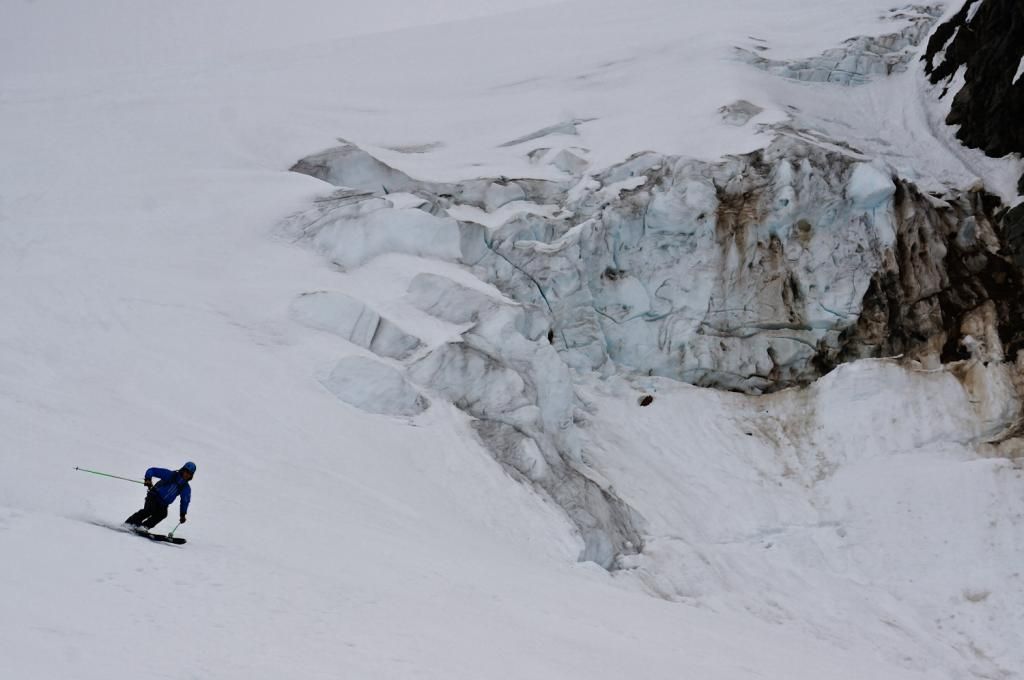 We recovered Will and Sid's meager stash and descended to the parking lot, fielding questions from ascending snowshoe-equipped Young Life group leaders about which way to go. "Down," I suggested. We bid farewell to friends old and new and Jesse and Will rotated driving duties while I got severe leg cramps in the back cab. We arrived to our friend's birthday party in Seattle in time for badminton, an icy keg of Manny's and a seemingly never-ending emergence of meat off the barbie. Queue Sunday.
Two (out of three possible) Tacomas.