This line first caught my eye on the map more than a year ago. Here's a picture from the
Carr+ marathon
three weeks ago. The steep glaciated face, just beautiful.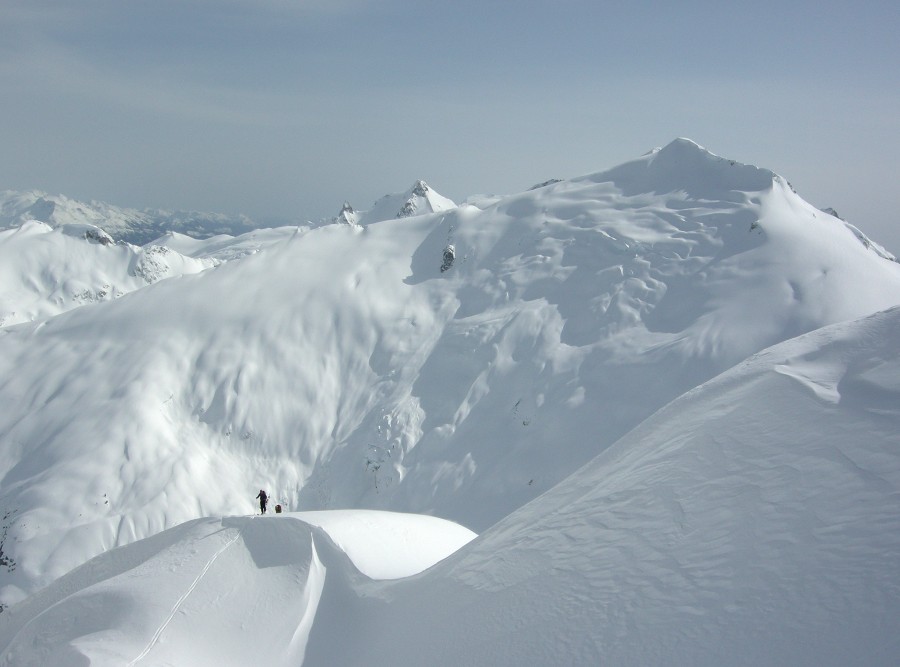 Last year, it was never really in good condition.
I cropped as much of Garibaldi Lake from this photo as I could, because I'm kind of sick of it for the moment.
That's not a shelter built especially for midgets. It snowed a bit.
This is the best I've managed to capture that serac arch.
This time, just to go a different way, I led us by the Bookworms. That was a mistake. Andy follows my foolishness.
Andy: Next time we want to spend a day destroying ourselves, let's go over there. Looks pretty cool.
Southern aspects had sweltering, summery sun. Northern aspects were still holding wintry snow. Andy skis toward Gray Pass.
Booting toward the summit of Parapet Peak. Note the cornices.
At the summit of Parapet. That's Isosceles in the background. We schralped it last April. It's nice.
Get over there and ski under those cornices, Andy! It looks perfect!
If you're going to ski under the hudge cornices, don't stop. That's the magic of skis. In and out of the danger zone in 10 seconds flat.
More April imitation powder. I love it when a line meets my expectations for it.
It would be great to ski it all the way to Isosceles Creek.
Melting some snow. I only carried a 600 mL bottle for the day, usually empty.
It's Phylis's Engine and a race with the sun. We won, then we lost.
Sunset above Garibaldi Lake.
We had other ideas and might have been able to execute them, but my legs weren't even equal to the easy 4,000' (1200 m) descent to the Sphinx Hut. It's nice to stop at the hut and cook dinner.
I have to be at work how many hours from now?
At least I didn't lose the trail on the descent like Andy! Thanks for another awesome day, buddy.
Sadistics: ~47 km, >10,000 vf, 1 good night's sleep to come....