Had a spectacular fall day at The Playground yesterday and finally sent "my proj."
Naomi and Micah got warm on "Beginner's Hand Jam," my favorite 5.9 crack at White Rock.
Micah hadn't climbed it before this.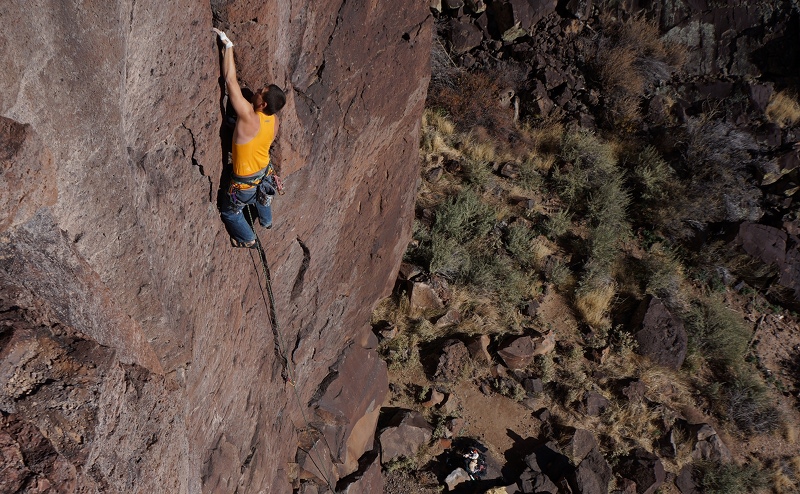 Micah skied powder at Sante Fe Ski Area (looking snowy in the background) on Saturday.
Then I did The Blowhole for a warmup, a classic sandbagged 5.10+. It's a fantastic climb and very difficult to get good shots of it. I've literally wanted to get some good shots of it for years now. So while I was being lowered a suitable location was found and I suspended myself from a couple cams to get that magical angle.
Micah on the initial finger crack crux
The crack curves into this overhanging sloping bulge and there are only some funky crimpers to be found.
Naomi on the initial crux
Clip before the crux
Finding the crimpers
Getting established on that foot
Standing is really awkward because it's overhanging and there's nothing great to grab
So The Blowhole was sent by three! That's pretty darn good.
Then I sent something that has been a bit of a project for me.
About 15 ft off the ground, first hard moves, the only pro is a brassy that does not sit perfectly.
Then a lieback to a crimper.
After placing another brassy, it's all about a lieback into a knee bar.
With the knee bar, an inspiring #4 Camalot can be placed. Then it's just a question of perseverance to finish hoisting through the roof.
Project sent!