I came to Europe this time not knowing what the heck I was going to do. I almost always have a plan but this time didn't really. I usually I spend the fall working my butt off so I can get back to Chamonix for the winter. After a week or two of panicking looking for work I said screw it, I'm just going to shred some splitter. And splitter I've been sending. Right when I started sending and stopped worrying so much about responsibilities, turns out I can get paid for climbing! Not much, but it's a start. I have a new series on EpicTV, it's starting with alpine climbing then once winter hits I'll be shredding big lines in Chamonix and other rad places. Before reading on you MUST watch:
http://www.epictv.com/media/podcast/epi ... p-1/248637
Most photos by Davide De Masi
Upon my arrival in Switzerland, Marq, Olov and I headed to Furka Pass. Awesome trad alpine climbing near Andermatt, Switzerland. You can park right at the top of the pass, camp five minutes from the car and it's about a 45 minute approach to the wall we climbed at. We climbed a 6 pitch 6c? I think. I was out of shape from guiding all summer, I didn't really climb above 5c all summer at work so I was SO STOKED to get on some harder stuff.
Furka Pass was rad but I wanted to get to Chamonix. I haven't climbed much alpine splitter in Chamonix because I've always been here in the winter. I had a classic in mind I've wanted to climb for a while, the Voie Contamine on the South face of the Aiguille du Midi. 7 pitches, 6c+/7a.
It was so good, I climbed it once with Marq and once with Tom. Notice the tank top at 3800 meters! WOOOOOOO!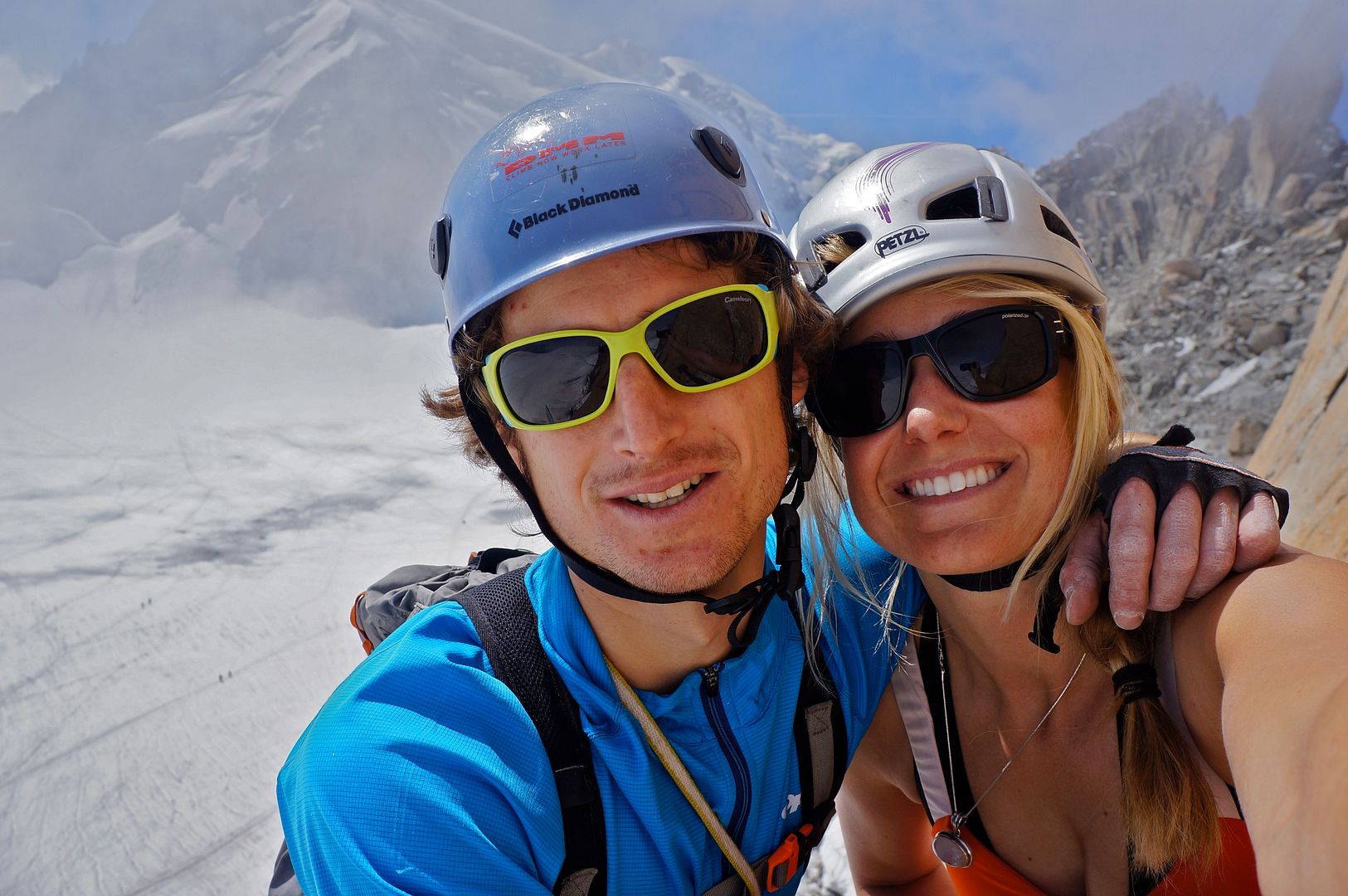 Next it was time for a bit bigger of a mission. Miss Tique on the Aiguille du Moine, 10 pitches, 6c+. A couple hour approach up the Mer de Glace and about 150 meters of sketchy overhanging ladders. The Moine is the nasty mountain on the right, Miss Tique pretty much follows a line right up the middle of the face.
Olov is a Swedish send-bot here to take over the world. He's about to finish his Phd in something I don't understand. I just nod my head and smile. He spends his leisure time on missions to Pakistan and skiing first descents around the Alps. He wanted to climb a 10 pitch 8a route on the other side of the Moine but he settled for Miss Tique on mine and Marq's account. He led the super fun 6c+ splitter fingers pitch up to an airy hanging belay.
I lead a really nice 6b hand crack pitch to another nice 6a pitch. Somehow I got convinced to lead the sandbagged "6a" death slab pitch. The topo said it had 3 bolts in 30 meters... Olov said it would be good for my head game, I believe anything Olov says so I went for it. Bolts every 20-30 feet and being 1,000 or so feet above the glacier below I may or may not have sharted a cute girl shart on this pitch.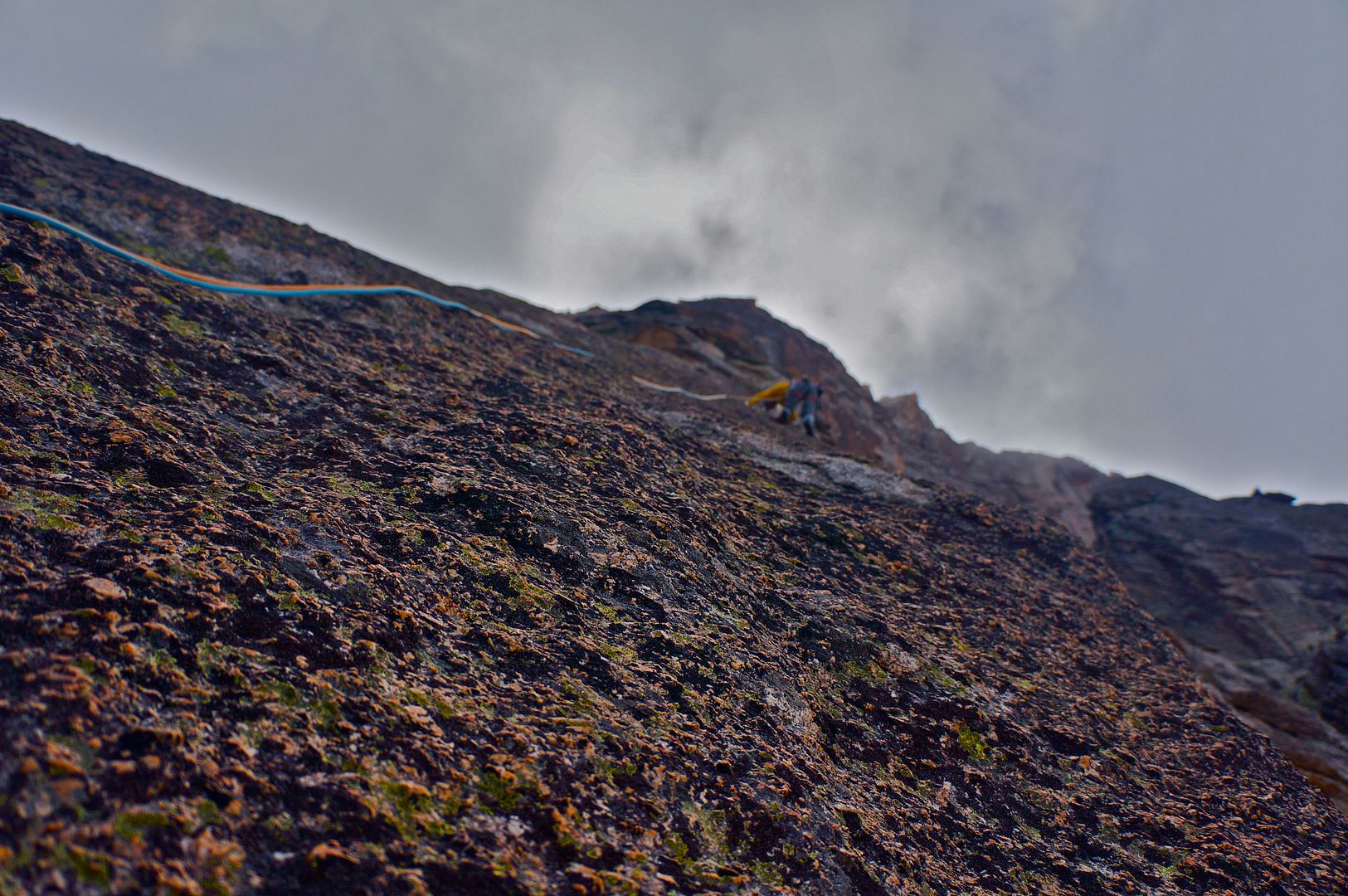 We got down in the dark and made it back to our bivy by the Courvecle Hut right across from the Grandes Jorasses.
Two days later we found ourselves in Italy going up the Helbronner tram (home of the worlds BEST shredding, pizza amongst other things). It was about an hour approach to Cache Cache on Pointe Adolphe Rey. 6 pitch 7a. (Adolphe Rey is the orangie outcrop that comes down the furthest in the shot in the center-right of the picture):
Famous British extreme skier, Tom Grant led the amazingly splitter 7a crux fingers pitch. This pitch seemed easier than the 6b slab pitch before it. Why do Euro's always have to ruin a perfectly good splitter climb with a pitch of run-out slab?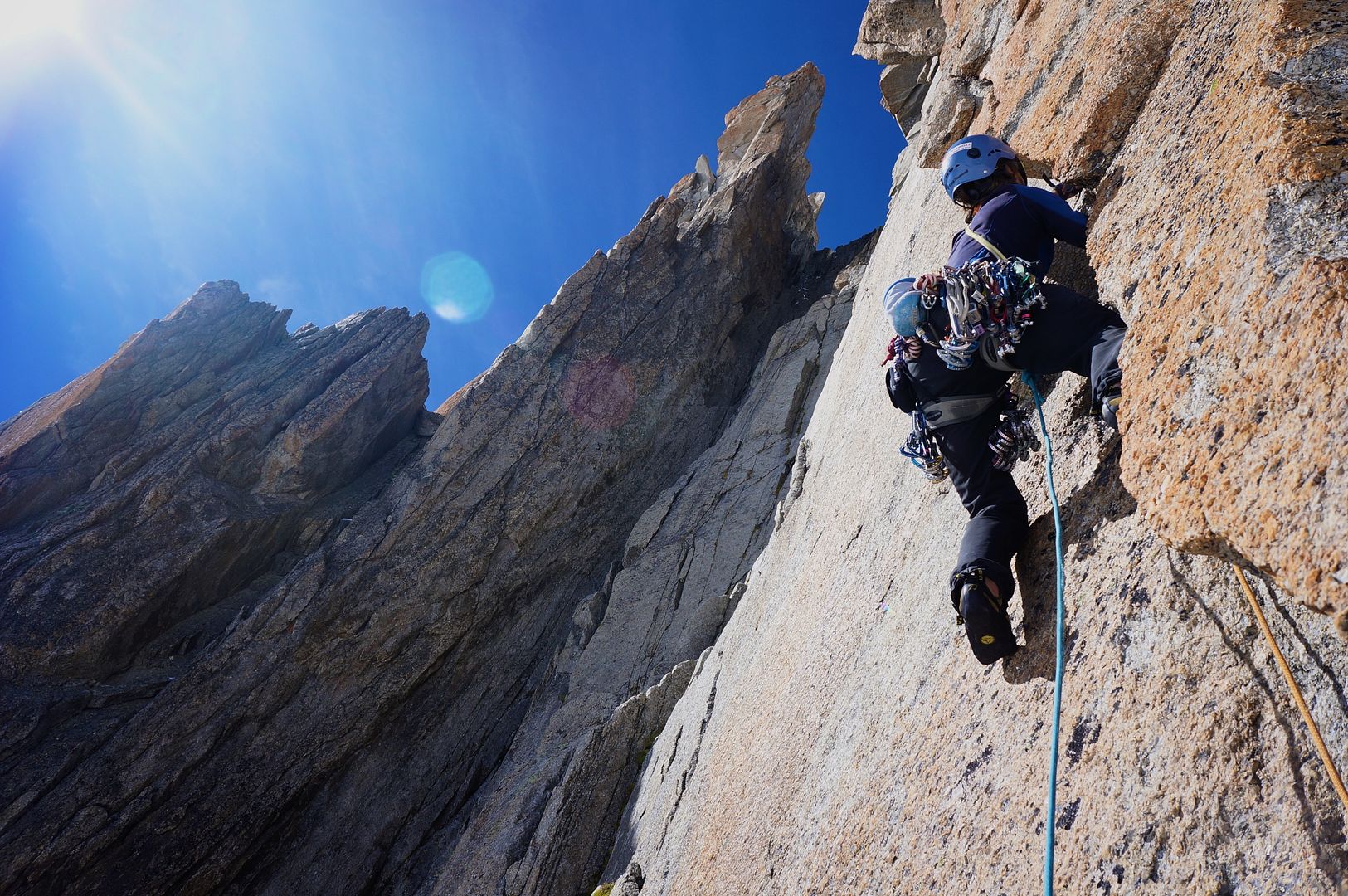 I led the 5th pitch. 6b SPLITTARRRR fingers to hands to off-width pitch. This was one of the best pitches I've climbed since I've been here. The off-width part was protected with bolts, which for the first time I really appreciated, and at the top you climb through a hole in the rocks and belay from a pilar above.
We were worried about making the last bin down the Helbronner in time for Happy Hour in Italy so we quickly rapped off and ran back up the glacier. We managed to make it down to stuff our faces with Nigroni's and free Italian tasty bites. Ti amo Italia!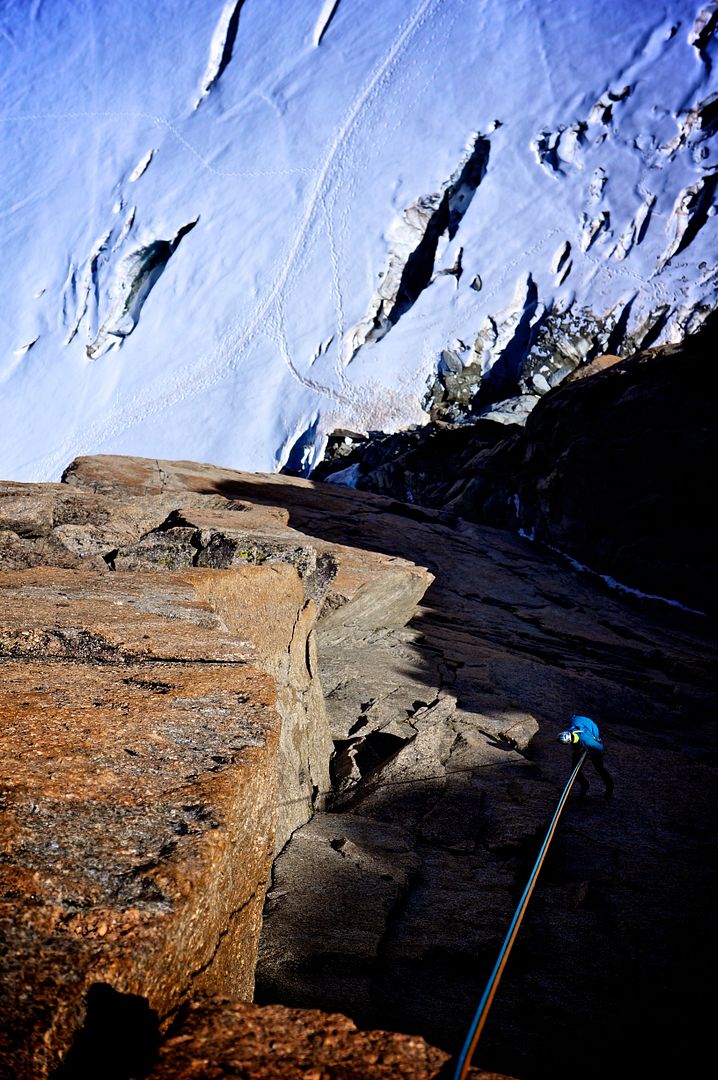 The weather turned to shit and it snowed 30cm's on the Midi. I was excited for some mixed climbing!
Turns out mixed climbing is extremely cold, the belays are colder, you're unprotected from the ice chunks coming down and hitting you in the face, the pro is shitty, and it gives you a nasty cold. Perhaps it's an acquired taste, I'll try it again soon. Screw that crap, we're going to Italy.
We climbed some nice limestone above the sea, got fat and drank more Negroni's.
We reconfirmed Italy is our favorite!