Naomi and I wanted to climb something exciting this week. The weather was mostly unfavorable, but yesterday was
good enough
. I've been fantasizing for a few years about climbing the Northern Lights. Yesterday we jumped on the first half of it, Alaska Highway.
The first pitch involves some authentic Squamish monkey business.
Naomi made a proud on-sight lead of the first pitch, especially considering how wet it was. I blew a foot twice after stepping into some mud but managed to hold a sweet finger lock. I was lucky my finger wasn't bleeding after that.
I've led things with harder moves than the second pitch, but as a sustained pitch it might be the hardest thing I've led. Is it a roof? An overhanging groove? A traverse? Who knows, but it's spectacular climbing.
Pulling through one bulge after another, it seemed like it would get easier. Eventually in an open book type feature it was only slightly overhanging, but wet.
Naomi near the top of the pitch.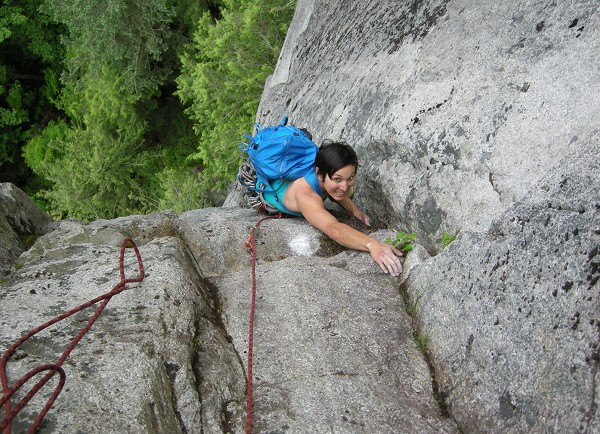 The third pitch is pure bliss.
Pulling past the chimney.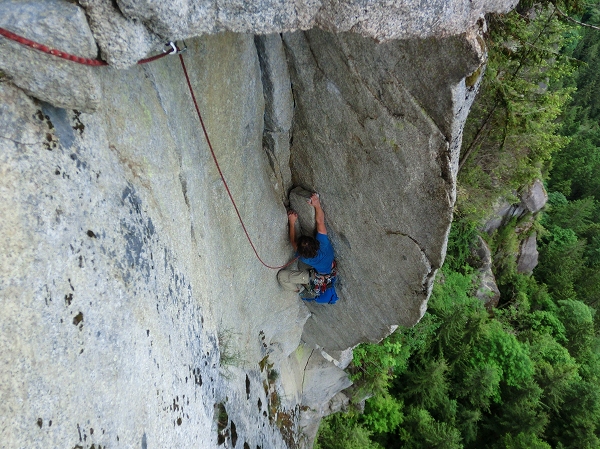 It has good rests.
The fourth pitch begins with a lieback.
Naomi before the crux hand traverse on the fifth pitch.
This climb is stellar! The 5.8 runout face to Astroledge is only runout by Squamish standards. The whole climb, while challenging and sustained, offers great protection.
When it's dry in August and July: Northern Lights, anyone?