Previous: Zion, Monkeyfinger
After Monkeyfinger, we had our sights set on Shune's Buttress. I was plenty sore and wanted nothing to do with an early start. Plus Shune's Buttress faces directly north so it is not a warm aspect. So we started late again, proclaiming ourselves "team fix-and-fire."
Shune's Butress is a beauty.
The first pitch is an 11+ finger crack, predominantly 0.5-0.75", which features some stemming, lots of lieback and a thin crux or two.
Lots of people do 160 ft to the top of a tower, but there is an anchor made of two drilled angles with a good stance. I had climbed past another cruxy move before I noticed it, but happily retreated to it when I noticed more steep, thin moves above me. I had already used a lot of the thin gear.
Mike leads to the top of the tower.
From the top of the tower, there is a 5.9 corner or a 5.10 splitter crack that climbs a face that features fingers, hand jams plus some fun face moves. I led the splitter and I highly recommend it.
Mike led the next pitch up a burly "5.10" offwidth then through some 5.10 fists. That was as high as our ropes would go so we fixed them and called it a day. We had made quick work of the pitches and in retrospect maybe we should have just sent it.
The next morning (Saturday) two climbers from SLC were atop the tower when we arrived. We waited to jug our second line and let them go ahead. This was a long, cold wait but I would have felt bad to haul past them, make them wait, then possibly be slower. They were understanding about our ropes and I think everybody still had a great day. Thanks for being cool, Andy and Matty.
Matty makes a valiant effort at freeing the offwidth.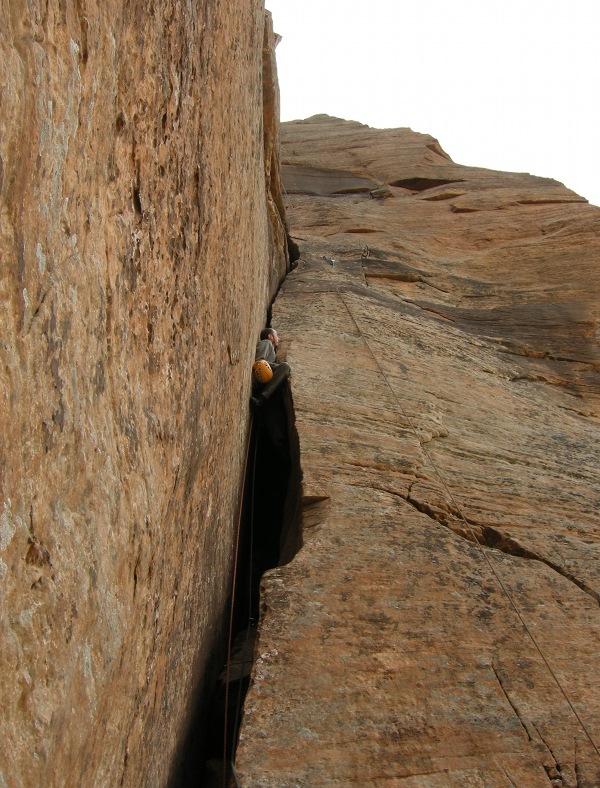 Finally we were climbing again. This was a classic chimney pitch.
Mike leads past a bolt on small but very positive face holds.
The position through here is striking.
The face pitch is short. The next pitch is one of the most spectacular pitches I've climbed. A few moves down around the corner lead to a thin finger crack with small face features. The thin fingers become sustained 0.5-0.75" fingers through a roof, then sustained 1" thin hands. The whole thing is splitter and the exposure is outlandish, more than 500 ft above the canyon.
Mike follows the splitter through the roof.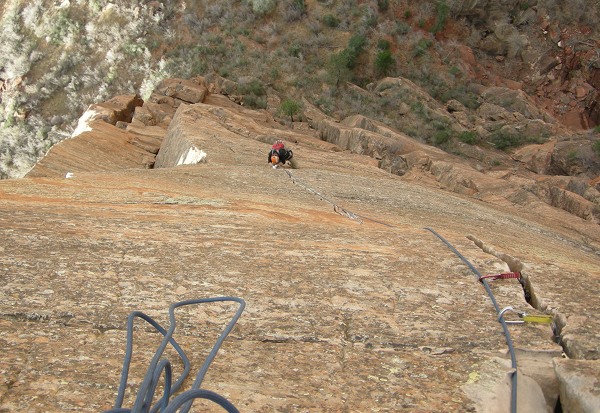 The last pitch is 160 ft of fun hand jams and face holds.
Rappel -- watch those ropes!
I am psyched and ready for another week of vacation.
The ten-hour drive home was a grind. I noticed my car had a flat tire before heading to work on Monday morning. Glad that did not happen somewhere in the sparse expanses of the Navajo Nation!
Nine days after my previous shower (a new personal record?), there was a transient puddle of red mud by the drain.