Just another epic day in the Coast Mountains.
Today's playground:
Fitzsimmons is the peak in the middle. The North Face is the beautiful, clean slope that makes a clean descent with a slight diagonal to the left. Iago is the shorter peak in the sun on the left. The West Face is the plum line from looker's right of the summit that forms a V with the North Face of Fitzsimmons.
After skiing both, I couldn't decide which line is better. So let's ski both in a day.
This northeast-facing slope below the summit of Overlord has always given me pause. We crossed it one at a time. My first two times up there, we skied from the summit of Fitzsimmons via the southwest facing slope in the sun then crossed the notch and traversed to the North Face.
What do you know: Direttissimo? This time, the direct line from the summit where sun meets shade looked good to go.
Naomi on the other side of Overlord.
A short, steep bootpack to the summit of Fitzsimmons.
On the direttissimo. Naomi has recently deviated a bit from her Austrian racing roots to ski some steeps with me.
The other day she said, "I think I like steep skiing."
What's not to like?
Alex seems to like it too.
The recent warm storm caused the whole North Face to rip a massive slab. But since then, there's been enough new snow to refresh it. So the same weather that has so many people biting their pillows allows us to shred these lines with impunity.
Praise Jah!
Below the crown line, the North Face was skiing so well.
Can't see the powder? It is a North Face at 51*N in January, which makes the light flat. Here's an animated version that makes it easier to see the pow spraying over the rocks.
Alex enjoys more NF pow.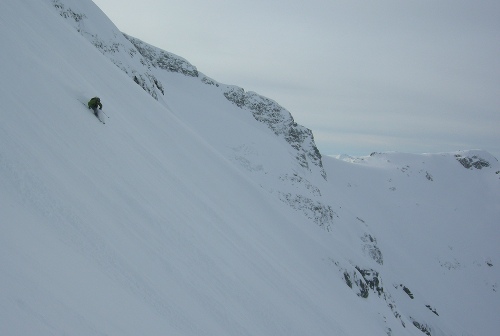 Naomi skins with Fitzsimmons and Overlord behind her.
Alex at a col to get to the Iago Glacier, Macbeth in the sun behind him. "Light alpine winds" my ass.
A minor routefinding error on my part plus a minor emotional meltdown kept us from the summit of Iago in daylight. But it was the best alpine steep skiing I've ever done by headlamp. This line is so choice!
Creek crossing on the climb from Fitzsimmons Creek to Russet Lake.
A break at the Russet Hut and some of Maddy's delicious cooking helped Naomi and I prepare for our late-night descent to Whistler. Cowboy Ridge had more fun headlamp powder skiing and the Singing Pass Trail was in very smooth shape.
xoxox,
...