Ryan and I immensely enjoyed a linkup of Borderline and Angel's Crest yesterday.
On the Mamquam Forest Road we encountered two friendly climbers en route to the Zodiac Wall or somewhere like that. They told us that Borderline to High Plains Drifter is one of the best linkups at Squamish. I acknowledged our desire to climb said linkup and my unfortunate suspicion that I'm not one of the best climbers. Thy also offered us advice on how to best approach Borderline. We proceeded to get lost in the woods, wander in circles, then climb two pitches of moss, choss and jungle gym to arrive at the base of Borderline at noon, excited to finally "start climbing."
Oh, there's the trail.
Ryan near the bolted crux at the beginning of the first pitch of Borderline.
Serious fun
Ryan moves right.
Ryan floated up this.
A view of the Apron and Howe Sound. I <3 Squamish.
Looking down after climbing a very fun short section of overhanging crack.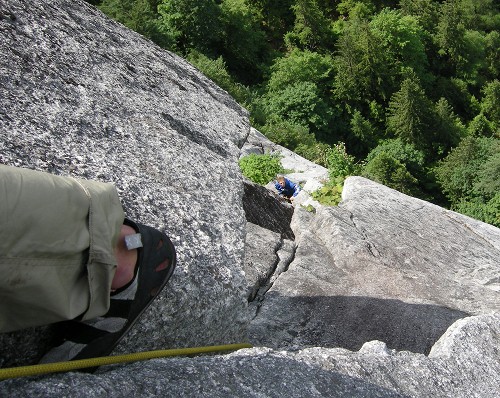 Ryan finishes the same "cool moves"
The "awkward and challenging" chimney and offwidth
I couldn't help but get all up in there.
Then we connected with Angel's Crest.
Lower Acrophobe Tower and the upper part of Angel's Crest. The friction and scenery up this pitch are superb.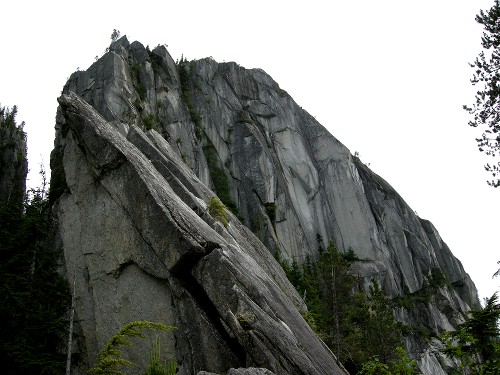 Did you notice the climbers on High Plains Drifter?
A lovely place for a walk!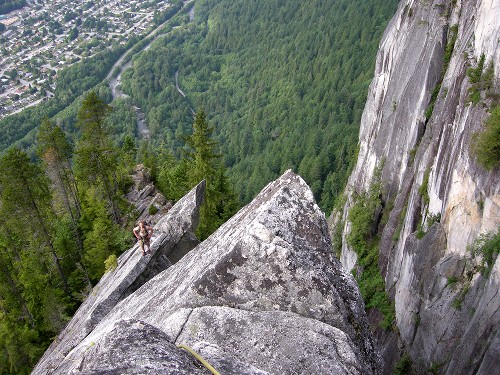 The clouds lifted to create a sunset scene on Garibaldi.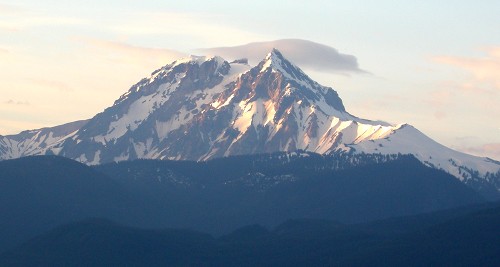 Ryan and I celebrated with pastis, then enjoyed late night vegetarian grub and gangsta rap at Foundation in Vancouver. My hands look way too healthy today; I guess next time we need to climb something more difficult.