Another day in the Sandias, another pre-climb kerfuffle. Patrick was along for his first day in the area, so we had to make it extra special. In addition to an obscure new approach, the ropes were left poorly rigged such that we could not pull them after the 55 m rappel to this glorious pitch.
Glad I had my Tiblocs.
Patrick led first.
The start is the crux of the whole thing.
Patrick dropped the rope after he reached the top then I led it.
That's more like it.
Naomi was nice enough to settle for following in the interest of being able to climb something else before the end of the day.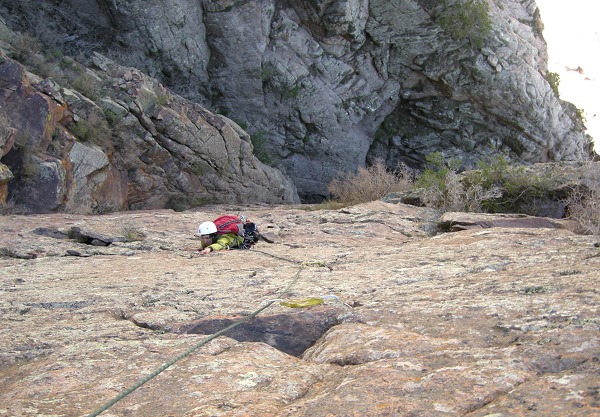 We did the rappels down the Watchtower on an exploratory mission to find Wildflower Wall. After scrambling, looking at three different routes, then realizing we were rapidly losing the sun, I on-sight pioneered a fully alpine line, "Dingleberry Gully," 5.6 R.
That was a fun day, though.
But it seemed like a good idea to get on something a little longer and more sustained for Sunday. That just didn't feel like enough of a beatdown.