I made an earnest effort to entice Jason for this trip, but he was too busy being broke or something like that. Will had the motivation to drive from Seattle late Friday night to make a big play on Saturday.
Friday, I found myself yearning for mountain adventure. I worship the sun. The sun in Vancouver was quite nice. But this is not my place of worship.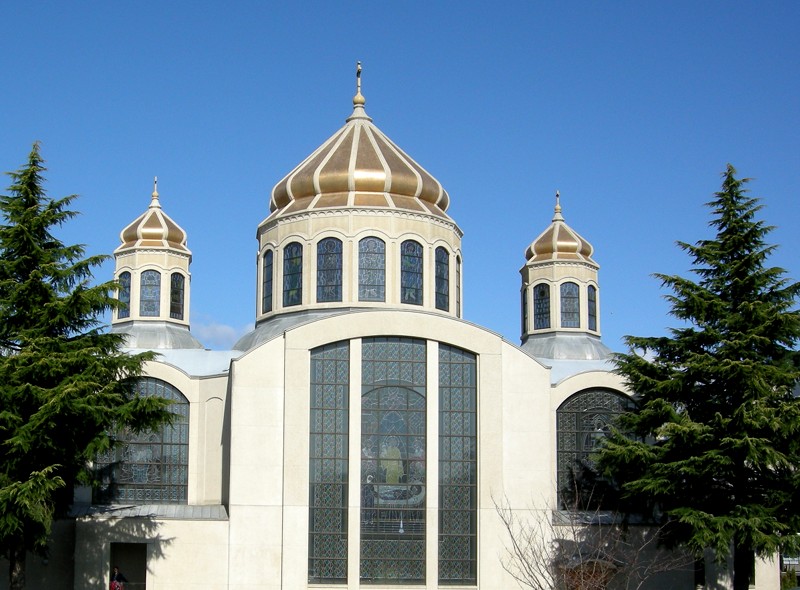 Saturday morning, Will and I met Ziff and Gunn at the Whistler Gondola. Somehow, Will and I arrived early. We happened upon a free soy milk latte at the coffee shop. I ignored my misgivings to consume the equivalent of my 10
th
shot of espresso for the morning. Let's try something new.
Let's rip some corduroy. Gunn and Ziff atop the Harmony Chair. Black Tusk and Tantalus Range in the background.
Ziff skins through the musical bumps with Castle Towers representing across the way.
Will and I stashed overnight gear at the Russet Lake Hut while Ziff and Gunn continued toward Whirlwind.
Russet Lake Hut is visible, with Shudder Mountain (L) and Mt Macbeth (R) dominating across the head of Fitzsimmons Creek. Our second big descent of the day was down the Curtain Glacier, just behind the left skyline from the summit of Macbeth.
Ziff on Overlord Glacier after passing through the Whirlwind Col.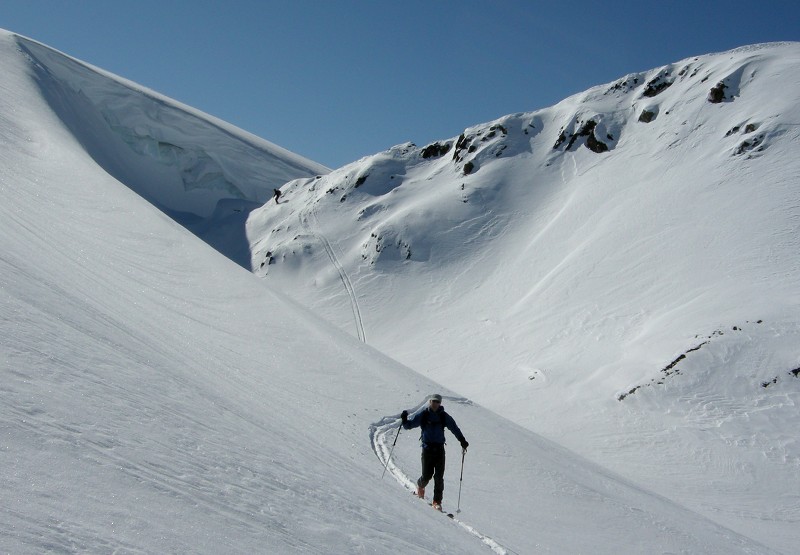 Heading toward Overlord through large cornice-collapse debris while Fissile looks mighty fine.
Ah yes, Mt Fitzsimmons, good to see you again!
Will approaches the summit of Fitzsimmons. Mamquam massif is in the distance.
Gunn and Ziff on Fitzsimmons, heading for the North Face.
The North Face of Fitzsimmons had chunky old powder, excellent conditions for steep skiing. This descent was much more gratifying than doing it in a whiteout on January.
Gunn skis powder on the apron below the North Face of Fitz.
We parted ways with Ziff and Gunn below the North Face. Will and I needed another dose.
Will heads toward the Macbeth Glacier. Ziff and Gunn can be seen breaking trail up Overlord.
Will on the Macbeth Glacier.
Then we turned a col onto the Naden Glacier. The expansive alpine terrain never loses its novelty.
After yet another col, Will follows my boot pack up the Curtain Glacier on Mt Macbeth.
Our ski tracks are faintly visible on Fitzsimmons.
Will takes the last few steps up Macbeth.
Pow from the summit...
... and down the Curtain Glacier.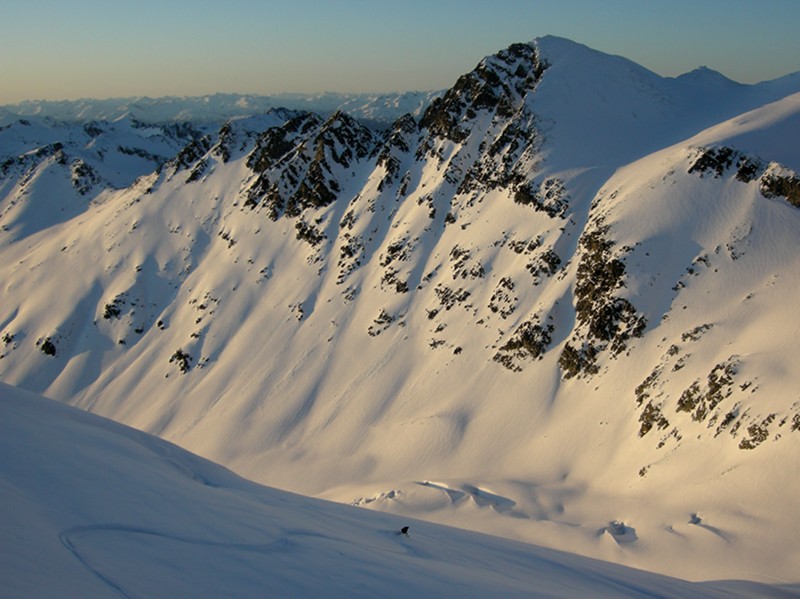 We were at the head of Fitzsimmons Creek and the toe of the glacier at sunset. We were both really tired. A long slog led us to the Russet Lake hut again. I was completely destroyed and correspondingly happy.
The storm arrived early enough to let us get some much-needed sleep instead of going for Fissile. It was winter again as we skied to Singing Pass.
All hail the death of the big ridge!