I just had a stellar weekend in the Sandias. Naomi was scheduled to arrive in Albuquerque on a flight at 6 pm on Saturday. I decided to solo the Northwest Ridge of the Thumb on the way to the airport.
It's about 1,100 vertical feet on the ridge with the lower 500 feet or so featuring lots of low 5
th
and moves of 5.5 or 5.6 here and there.
I passed a couple of parties on the route. This is a nice lady named Lee on lead before a fun move.
The ridge has excellent exposure and it was a wonderful place to take a walk in the mountains.
Then Naomi arrived and we had a tasty dinner at Cowgirl BBQ in Santa Fe. We (at least I) got a good night's sleep and left Los Alamos the next morning at a leisurely 8:30 am. Nevermind the late start, it still seemed like a good idea to link Mexican Breakfast Crack with Mountain Momma.
Mountain Momma climbs right of the middle up Torreon, the dominant, steep formation in the center of this photo. Mexican Breakfast is the smaller tower below Torreon to its left.
We drove to Sandia Crest, 10,678 feet above sea level. Then we hiked down the La Luz trail to about 9,000 feet and travelled cross-country through the woods to the base of Mexican Breakfast Crack. The off-trail bit was fairly painless and only took about 10 minutes. Naomi walks through some talus.
A close view of Torreon. Mountain Momma starts up the large dihedral on the right side of the sunny stripe of rock that heads up the center of the formation.
Mexican Breakfast Crack climbs a hand crack that quickly widens to four inches, gets way under a huge roof, then finishes with a wild exit taverse.
Fantastic!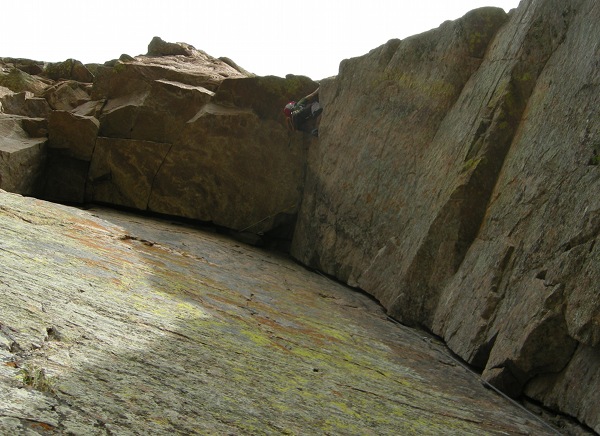 Naomi led an awkward move up a wide crack to some easier terrain to finish Mexican Breakfast. Then it was time to jump on Mountain Momma.
This thing is sustained. Naomi follows the first pitch near the belay.
Naomi leads the second pitch, with starts with overhanging face holds and side-pull flakes.
Starting up the wild, double-cruxed third pitch.
The first crux.
Mountain Momma relents a little after three fairly long, sustained pitches, but not before a scarcely-protected awkward traverse then plenty of 5.8-5.9 face climbing with constant 20-30' runouts. Naomi did a great job with the alpine gauntlet.
Two easier pitches remained. Naomi began belaying me from the summit at sunset. The alpenglow on the pink granite of the Sandias was surreal.
After a single rappel and a scramble up a gully, it was an easy hike to the crest with a fun bonus scramble through the limestone band.
This Mountain Momma is all that.